"Our mission is to be a vibrant group of university women who support, mentor, and inspire each other."
The following article is from the Summer 2021 edition of Blue Review, Millikin University's family magazine
Future career success is at the forefront of what the Millikin University Women in Business (WIB) organization strives to accomplish for its members. Founded in 2018, this organization caters directly to female students enrolled at the Tabor School of Business who want to network, connect with other businesses, and give back to women-led businesses in Decatur, Illinois, and around around.
In 2020-21, Women in Business experienced a year of meteoric growth, beginning the term with three members and ending with 26. Under the leadership of Elizabeth Wolpert, Assistant to the Dean of Enrollment at the Tabor School of Business and Advisor for Women in Enterprise, the organization began planning events to recruit members and raise awareness of its mission at the start of the school year.
"Our mission right now is to be a vibrant group of university women who are here to support, mentor and inspire each other, and also gain mentorship support and inspiration from other women in the community" , Wolpert said.
Operating under three main goals, the organization hopes to bring together businesswomen of all levels of experience, from high school students interested in business majors to women who are seasoned veterans of the business sector.
"We hope to push into high schools to increase interest in business careers, promote Millikin's Tabor School of Business and give back to women in business," Wolpert said.
Preparing students for career success is central to what the Women in Business organization hopes to accomplish. Anna Hooker, a Decatur native and dual major in management information systems and business management with a concentration in supply chain and logistics, joined Women in Business in the fall of 2020 with plans to create relations with the women of Tabor.
"I've had the opportunity to develop relationships with extremely motivated and dedicated women, which has been very inspiring," said Hooker, discussing how the organization has helped her prepare for future success.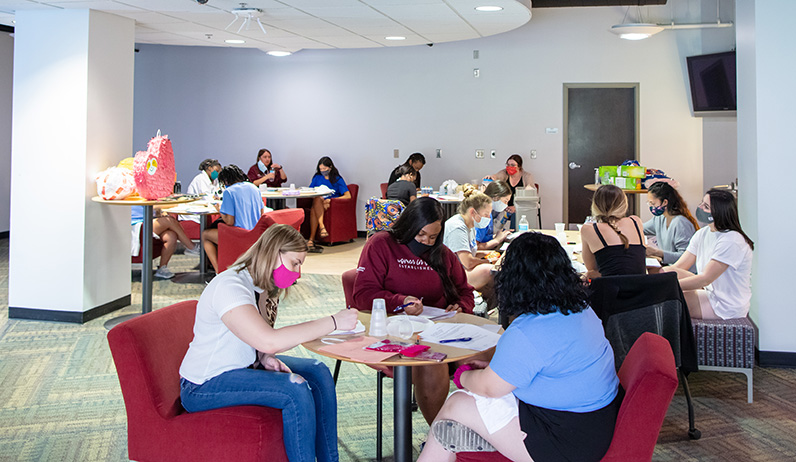 "Being a member of Women in Business has allowed me to empower those around me, get involved, network and develop meaningful relationships," Hooker said. "My time well spent in this organization will prepare me for my future career and also help me become the successful person Tabor has prepared me to be when I graduate."
Hooker ran for a position on the Women in Business board of directors last spring.
WIB also allowed Tabor students to exercise their unique interests and what they learned at Millikin prior to graduation. "Since joining WIB, I've had the opportunity to apply my degree in digital media marketing," said Chelsea (CJ) McCullum, a sophomore from Oswego, Illinois, who majoring in Digital Media Marketing and Spanish with a minor in Design. thinking. "I was able to share my work on social media with the organization and learned how to create effective flyers and posters."
Networking also proves to be a primary focus for Women in Business, with members sharing their experiences and knowledge with each other and with businesswomen throughout the community. "I've had the opportunity to learn about other members' backgrounds and experiences while being part of WIB. We're a pretty tight-knit community of strong women," said McCullum, who also serves as vice president of marketing. organisation.
In terms of future success, WIB strives to connect Tabor students with women who have worked hard to succeed in their businesses and careers. "We want to break down barriers and connect with these women who own small businesses and have created what they have from scratch," Wolpert said. "Learning about them and their experiences, and being part of their networks helps our students better understand what's going on in the Decatur community."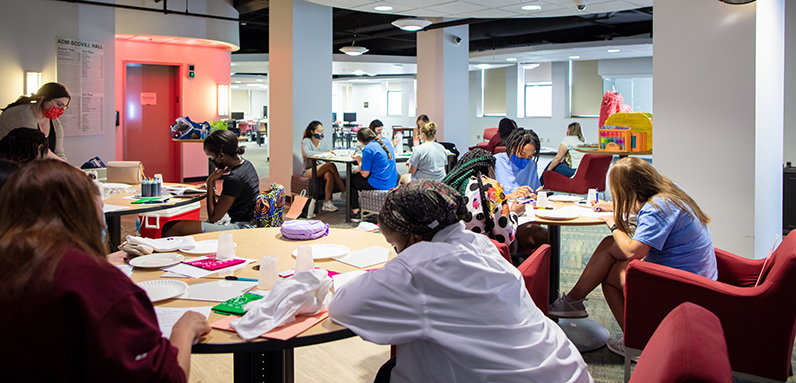 The organization welcomes all students enrolled in Millikin's Tabor School of Business majors, minors, and certificates, and includes adult learners in the MBA program.
To get involved with Women in Business, contact Elizabeth Wolpert at [email protected]
blue exam
Millikin University's "Family Magazine," Blue Review, offers new and interesting insights into campus. From faculty and student stories to new programs and majors to accomplishments in our athletic and alumni communities, Blue Review has Millikin pride on its glossy pages. Readers will enjoy original photography, design and illustrations, collaborative content developed by staff, faculty and students, and a behind-the-scenes look at the fascination and innovation that fuels Millikin Momentum.
Our most recent issue covers Millikin's 97% graduate success rate and every step students take to get there. It examines how students have risen to the challenge of the COVID-19 pandemic and how they have grown through the performance-learning educational opportunities that Millikin has helped provide. As the world stood still, Millikin students continued to persevere, showing their strengths to the campus, community, and employers around them.