Brad Gilman, general manager of Upper Valley Auto Mart, of Monroe, NH, left, talks to salesman Bob Lewis, right, at the used car dealership in White River Junction, Vt., on Monday October 4, 2021. Gilman has been in car sales for 41 years. (Valley News – James M. Patterson) Copyright Valley News. May not be reprinted or used online without permission. Send your requests to [email protected]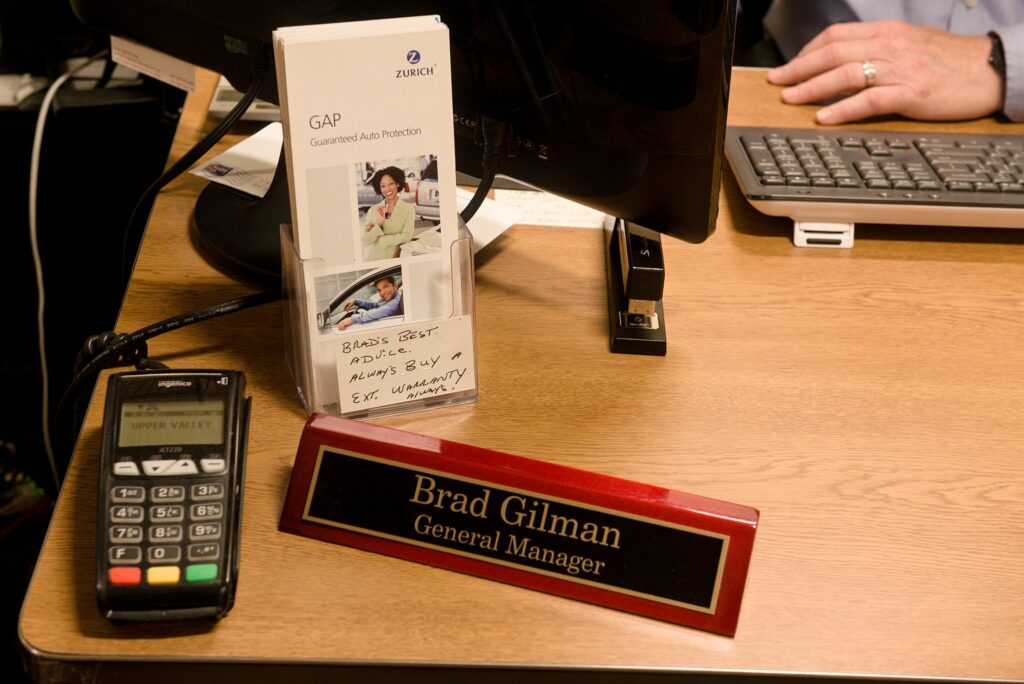 "Brad's best advice. Always buy an extended warranty," is written on a card and taped to a rack of warranty brochures in the office of Upper Valley Auto Mart General Manager Brad Gilman in his White River office Junction, Vt. Monday, October 4, 2021. (Valley News – James M. Patterson) Copyright Valley News. May not be reprinted or used online without permission. Send your requests to [email protected]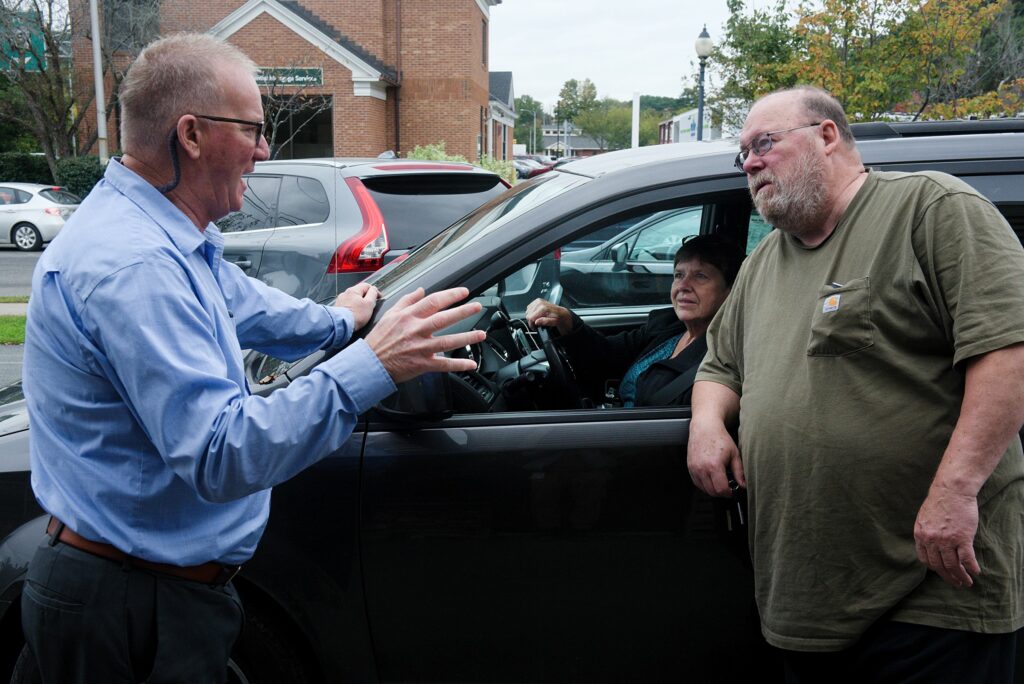 Brad Gilman, left, talks to Joan Smith, of Norwich, middle, and her partner Lincoln Robtoy, right, after handing over the key to a truck they bought at Upper Valley Auto Mart, where Gilman is general manager in White River Junction, Vt., on Monday, Oct. 4, 2021. Smith and Robtoy purchased their last two vehicles from the used car dealership. (Valley News – James M. Patterson) Copyright Valley News. May not be reprinted or used online without permission. Send your requests to [email protected]
Valley News Correspondent
WHITE RIVER JUNCTION — Business has been strong at the Upper Valley Auto Mart, where Brad Gilman, 61, sells used cars.
But the cars themselves are hard to come by during the COVID-19 pandemic, and prices are rising.
"The challenge has been (just) finding inventory to sell to people," Gilman said.
Customers know they need to act fast. Waiting a week can mean losing the car, which is why Gilman has seen customers go from inquiry to purchase in much less time than in the past.
Auto Mart sources cars as far west as Michigan and as far south as Florida. But the company has to pay the shipping cost somehow, so cross-country vehicles to White River Junction cost more.
Gilman has seen prices rise 5% this year alone and he does not expect them to fall to pre-pandemic baseline levels.
"I've seen this trend three times in 40 years, and I've never seen them go back more than a couple percent," he said. "Once they go up, they stay up."
Gilman had time to learn the ins and outs of the used car market.
"I joined the company on October 10, 1979," he said, with characteristic ease with exact numbers. "It was accidental, I had gone to college for a bit, then I came home and needed a job. And I had seen a sign, so I decided to quit .
He made $27,000 his first year at a car dealership, double the average salary of about $12,000. He saw no reason to go back to school and he never did.
Although he never needed a bachelor's degree, he took what he learned in college to heart.
"The little I went to school, to college," he recalls. "I had a teacher who said to me, 'You find a profession that you like, and if you like it, you learn it, you stick to it, and you will do very well in life. If you love it, you love working, you love what you do, you will make a career out of it, and whatever your job, you will end up being happy and successful in your life.
"It's absolutely true. I love the automotive industry.
The auto industry has changed a lot since Gilman responded to the ad that led to his career.
Starting last October, Auto Mart customers can complete the many paperwork that can usually make buying a car a time-consuming ordeal online at their kitchen table.
Upper Valley Auto Mart held off its online competitors, but Gilman has seen how brick dealerships are adapting. Typically, customers first inquire about a car online before coming to see it. If they like the description of the car enough, they can pre-apply online. Then they can go in and test drive the car, and if they like it, they just sign the papers and drive home with a new car.
"That's what we call sign 'n' drive – so they're here for 20 minutes and then they're out in maybe 30 minutes," he said.
Online competitors may have pressured Auto Mart to take advantage of technology to streamline their customers' shopping experience, but Gilman doesn't see national entities Vroom or Carvana as a serious threat to the market. well-being of a physical dealer.
"There's no real competition from them," Gilman said. "They are not cheaper."
Gilman and his colleagues bid on every car they buy. He says Vroom or Carvana often pay thousands more for the same model, leaving the customer with a higher price.
He added that – contrary to rumors – people in the auto industry are honest, except for the inevitable bad apples.
Indeed, he argues, they don't have much choice in the matter: the piles of paperwork that come with buying a car go to regulators to make sure dealers don't overcharge customers.
"And don't take it the wrong way," he added. "A buyer is much more likely to lie to a dealer than the other way around."
An online system allowed him to verify his customers' claims of better details at other car dealerships. He can instantly check other dealers' prices, and if a car is cheaper elsewhere, he can see why. Barely five years ago, he would not have had the means to investigate his clients' complaints so conclusively.